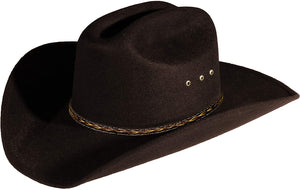 Brown Faux Felt Cowboy Hat
50% Paper/50% Palm Leaf

This environmentally safe material is blended together then delicately molded into our cowboy hat shape. Once they have dried, each hat is painted (with three coats), which hardens the hat and helps it keep its form. The band is then carefully applied to the bottom of the crown. Lastly, our 0.5" sweatband is sewn in creating this extremely versatile hat.